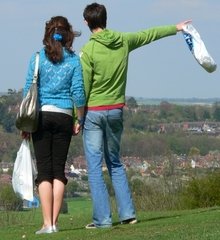 Being in a one sided relationship can be so depressing  especially if you desire to have a lasting and healthy relationship filled with commitments.
The scenario becomes worse when you are really working so hard and doing everything humanly possible to ensure it works, while your partner does nothing on his or own side.  That brings us to the question.
What is a one sided relationship? 
Just like the name implies,  A one sided relationship is any relationship that you invest your time,  energy and emotions alone. It is a relationship that drains a lot of energy from one,  and leaves one with the feelings of doubt and insecurity.
Imagine you are sharing a flat with someone, in an actual sense,  you both were meant to be contributing for the effective running of  the home, including renewing of house rent and other miscellaneous expenses.
But unfortunately, you find yourself spending alone,  while your room/flatmate sits back to enjoy your effort and feels reluctant to contribute.    How would you feel?  Frustrated and  furious right? As a matter of fact,  I don't think anyone in his/her right sense would condone this for a long time without seeking for a way out.
Also imagine living in an apartment with your siblings, you know that scenario when you were much  younger.   They do nothing at home, you do all the house chores,    while they only eat and sleep.  I am certain no one would be happy with such experience.
Similarly, this is likened to how it feels like being in a one sided relationship.   The word "flatmate or siblings" is a title, it will have no significance in your life except you see their impact and contributions in your life.
Similarly, relationship will remain  a title till you begin to see the impacts of your  partner towards your life and the growth of the relationship.
A lot of folks claim to be in a relationship,  yet in reality,  they are actually single, they keep  driving and scaring other potential dates away with the assumption that they are in a relationship.
Reality begins to dawn  on them as soon as  they realize that they had been in a wrong relationship for so long.  Now  you begin to  wonder why people keep wasting their time in a one sided relationship even when they have a choice to walk away.  You wonder why people get stuck in a relationship where they have to stress themselves so much. There are so many reasons for that, and that forms our next discussion..
Some of the Reasons why people get stuck in a one sided relationship .
being in a forced relationship –
when people do something out of pressure,  there is every tendency that it would not be done well.
No effort or what so ever would be invested.  Similarly,  when you pressurize people to be in a relationship with you against their will, they might succumb out of pressure.  But be rest assured that you will end up doing everything to keep the relationship.
For one to contribute toward the growth of a relationship,  the interest has to be there.
The feelings ought to be mutual and not borne out of composure or the assumption that he/she is doing the other a favor.  This contributes to the reason why most people  remain stuck in a one sided relationship.  they forced the relationship to begin in the first   and they had to keep forcing it in other to maintain it.  probably because they don't want their previous effort to be in vain.
Afraid of being  single
The fear of  going back to their single status is what has kept a lot of people stuck in an unprofitable relationship.
They just want to have the title of being in a relationship,  they don't want their relationship status to be invalid.
They are afraid of loneliness and so would rather keep managing the relationship than brace up and walk away. Such kind of people often gets into a a REBOUND RELATIONSHIP.as soon as their previous relationship comes to an end.
5 signs you are in a one sided relationship.
Nagging suddenly becomes a habit
Did you observe that you are beginning to nag recently?  Are you in a relationship that had suddenly turned you into nag.
Chances are that you might be in a one sided relationship.  There is a saying that behind every nagging man/woman, there is a partner who ain't doing what he/she ought to do.
This is exactly the case in this scenario.  You nag mostly because you ain't getting the attention you desire.  A mutual relationship is one where both partners knows their responsibility and does it willingly,  without waiting for their significant other to yell or complain about it.
You apologize for their fault
One of the typical sign that you are in a one sided relationship is when you often see yourself apologizing even when your partner is at fault.
This is usually a sign of negligence indicating that they don't value the relationship, and are not scared of loosing you either. You ain't their priority, so they don't deem it necessary rendering  Aplogy, when they've erred.
They love you only in good times.
There is a saying that you don't determine true love when things are in abundance. True love can strongly be identified in both old times and good times. Before assuming you are in a healthy relationship, first examine how they react and treat you during challenges. Do they offer emotional support to your during challenges, or do they desert you at such times? These questions will help you to determine the kind of relationship you are actually into.
They don't respect your decision
A  one sided relationship  also includes being self centered. People who want things to be done in their own without putting your emotions into consideration.
Such people always acts bossy and loves to be in control at all times. They would like to order you around, and when you fail to dance to their tune, it becomes a problem.
That is not a sign of a healthy relationship. A good relationship ought to be understanding and always ready to carry each other along during decision making and at all times.
you can also check similar article on this website.  http://www.hackspirit.com