One of the ways to be happy when single is to first realize that being single is not a curse. It is not an unfortunate circumstance just like most people presume.
Don't assume you are the most unlucky person on earth just because you ain't yet married or in any serious/committed relationship. being happy is not really tied to any factor. we choose to be happy by leveraging on the opportunities around us in other to bring out the best out of it, which in turn makes our life interesting and worth living.
I know it is human to feel bored and lonely especially when there is no special one to go on dates with. As a single lady, it is common to feel jealous when your friends tells you about their plans to go out on summer vacation or dinner dates with their spouse or fiancee.
You feel left out when they begin to showcase the gift they received from their spouse on special occassions like anniversary or birthday. When you tune in to your favourite t.v station, you are almost tempted to tune it off on seeing cute couples holding hands and displaying their affections to each other.
The feelings could be traumatizing. Regardless of that, don't feel like your world has ended. There are ways to be happy when single. there are ways you can still add spice to your life and kill that boredom while still waiting for your Mr/Mrs right.
A psychologist once defined happiness as a state of being at comfort and peace within your self. It doesn't necessarily have to happen for a specific reason. But because you are free and out of worries and anxiety. you ain't getting yourself worked up on certain issues in your life. Having known this, let's look out some steps that will enable you achieve this.
Five ways to be happy when single.
Upgrade your life.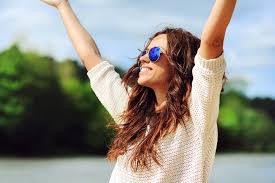 Single life may be boring, but not when you are busy improving your life and achieving massive success. One of the ways to be happy when single is to upgrade your life in such that people around you will begin to feel the impacts. Trust me, it feels awesome knowing that you are a role model to others. Everyone envies and desires to be like you. The feelings is great.
This is especially for ladies who assumes that marriage is the greatest and only achievement needed to become fulfilled in life. And so put their lives on a pause mood and everyother thing they would have achieved all because they are waiting for Marriage proposal. The truth is that marriage comes with a greater responsibility.
if there is a time to prepare adequately for this responsibility, it is now. don't wait till you get engaged. Start now. Get up from that bed, think of what skills or career to add to your life so you wouldn't be a burden to your spouse. Gone are the days when women are seen as liabilities in the home. With the harsh economy,a handful of women now support their hubby in ensuring that the affairs of the home is being taken care of. marriage is only a phase in your life and shouldn't be seen as an end.
Find joy within you by loving yourself and knowing your worth.
one of the Vital ways to be happy when single is to find joy and happiness within you by loving your life. If you don't love your life,you will always be desperate to get into a relationship every now and then, especially with the wrong people. people who lack self love are people who remain stuck in an abusive relationship, all because they are scared of being lonely.
So in the bid to get mingled, they keep tolerating all forms of emotional abuse. And later end of being discarded. Being happy and fulfilled with yourself when single will save you the stress of allowing anyone take you for granted. it induces self worth and esteem.
Attend single seminars and workshop.
One of ways to be happy when single is by attending seminars, workshops and gatherings specifically organized for the singles. This type of seminars are usually organized to motivate single folks to remain positive while waiting to get mingled. what usually contributes to the sadness of being single is the feelings that you are the only one left as all your mate have gotten married. But by coming together with your fellow singles, you will discover that you a'int alone in the situation. seeing other single folks who are much older than you is a way to reignite your hope. and who knows you might be lucky to find him/her there.
Treat yourself nice.
Don't lock yourself all day like you are mourning someone. it would only worsen the situation. because the more you stay in doors, is the more you are eliminating every chances of meeting someone who might be interested in you. treat your self nice, get dressed, wear your best outfit, look yourself in a mirror. Assure yourself you are beautiful, you are irresistable. assure yourself that this just a phase in your life that will soon pass,and that your soul mate will come at the right time. Go out and socialize with friends. do away with negative friends who would always remind you that you are aging faster thereby incuring desperation in you.
Pray consistently
This is the most vital ways to be happy when single. one remarkable thing about prayer is that it helps to eliminate every form of doubt, worries and anxiety. knowing that your problem is being handled by the supernatural and the creator of the universe. it gives you inner peace with the faith and assurance that one day your marital status would change.
Ask God for that joy irrespective of your burden.sometimes being happy is not always easy. Talk to God, let him eliminate every form of sadness and heavy heart in you so you can be happy again. While waiting for your prayers to be answered. you may also like to read./is-he-ready-for-marriage/
External website you may also find useful/lifejack.com